Paddle from Old Forge to Inlet across the first four of the Fulton Chain of Lakes and make your way back to Old Forge the next day with your boots or your bike!

The 3-night, 2-day Old Forge Inlet Circuit consists of one day of paddling and one day of either hiking or biking. Enjoy the varied architecture of the homes and camps along the shore as you paddle First through Fourth lakes from Old Forge to Inlet, where you can treat yourself to fine dining at the Woods Inn or the Seventh Lake House. Or feast on some of the best pizza in the Adirondacks at the Screamen Eagle. Top off your day with an ice cream or tasty gelato at the classic Northern Lights Creamery in the heart of the hamlet.
Hikers travel 13 miles on the way back to Old Forge, including climbs up Rocky Mountain and Bald (Rondaxe) Mountain with their expansive views of the lake country traveled the day before. Bikers cover 15 miles on the TOBIE trail with the option to add another 6.5 miles by looping through Thendara and visiting Elise Lookout. Bikers also have the option to hike up Rocky and Bald mountains along their way to Old Forge.
Plan to spend an extra day in Old Forge before or after your trek to enjoy all this bustling village has to offer, including mountain biking and the scenic chairlift ride at McCauley Mountain or the spills and thrills of over 50 rides and attractions at Enchanted Forest Water Safari, New York's largest water theme park.

Photo by Johnathan Esper | Wildernesscapes Photography
Old Forge
Arrive in Old Forge.
Click through the tabs at the top to see the full itinerary.
Welcome to Old Forge, the southwest gateway to the Adirondacks!
Inlet
Paddle approximately 10.5 miles from Old Forge to Inlet. Be aware of motorboat traffic along this stretch. Enjoy the varied camp architecture along the lakeshore. Lodge in Inlet. Delight in fine dining at the Woods Inn or catch a ride to the Seventh Lake House. Treat yourself to an ice cream or gelato at Northern Lights Creamery right in town and check out the sunset at Arrowhead Park!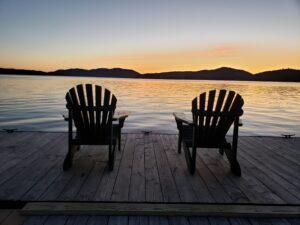 Old Forge
Hike or bike back to Old Forge. Hikers travel approximately 13 miles from Inlet to Old Forge, going up and down Rocky Mountain and over Bald (Rondaxe) Mountain along the way. The first portion of the hike is on the TOBIE trail. Bikers travel approximately 15 miles from Inlet to Old Forge on the TOBIE Trail, with the option to also hike Rocky Mountain and Bald Mountain. Bikers also may opt to take the extension through Thendara, stopping at Elise Lookout along the way. Enjoy dinner at the myriad of restaurant options in Old Forge.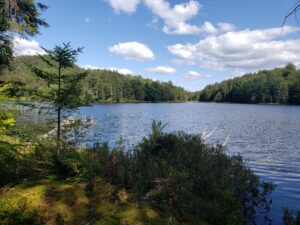 Old Forge
Before heading out, grab a hearty breakfast at Walt's Diner, voted "Best Breakfast" by Adirondack Life readers. Or treat yourself to quality coffee and some tasty pastries at the Wisk Baking Co. Better yet, plan to spend an extra day or two in Old Forge to hit the mountain biking trails at McCauley Mountain and enjoy the rides and attractions at Enchanted Forest Water Safari!
Route Highlights:
Four lakes: First Lake through Fourth Lake of the Fulton Chain of Lakes
The variety in architecture of camps along the shore
Fine dining at Misters Bistro in Old Forge and The Woods Inn and The Seventh Lake House in Inlet
Pizza at the Screamen Eagle, voted the best pizza in the Adirondacks by Adirondack Life readers
Hikes up two peaks with great views: Rocky Mountain and Bald (Rondaxe) Mountain, with its fire tower
The TOBIE bike trail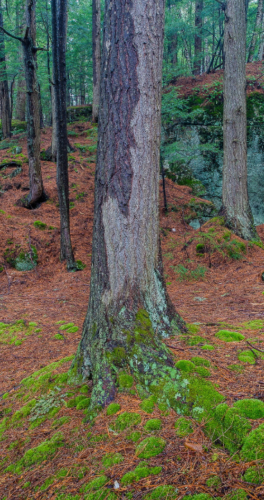 Did you know that…
On a clear day one can see Mount Marcy from the Bald Mountain Fire tower?
Enchanted Forest Water Safari in Old Forge is the largest water park in New York State?
Seventh Lake has the greatest maximum depth of all the lakes at 87 feet and Second Lake has the greatest average depth at 51 feet?
Frequently Asked Questions
General Information and Reservations
What special precautions have you taken regarding COVID-19
Stay tuned for more information.
What does an AHH trip include?
You can custom design your trip to include whatever you like. Booking a room and some meals for a self-guided trip is the basic form of booking but you can arrance canoe or bike rental, vehicle or equipment shuttle, and even a guide if that is your desire.
What exactly is Adirondack Hamlets to Huts?
Adirondack Hamlets to Huts is a 501(c)(3) nonprofit that creates, manages and promotes an internationally-acclaimed hamlet-to-hut system that fosters vibrant communities by advancing economic development, conservation and wellness. We work with existing lodging owners to the greatest degree possible to allow travelers to hike, paddle, bike, snowshoe or ski during the day and stay in a range of lodgings from rustic to regal at night on routes that we've designated. Trips typically are circuits in that they start and finish in the same place or traverses starting in one community and finishing in another.
Is there a membership program for AHH?
AHH is in the process of establishing a membership program that will allow travelers to support our mission and get a variety of benefits. Stay tuned for more information.
How can I help AHH?
Book one of our trips, make a donation, help us spread the good word through your social media network.
Can I volunteer?
Sure. We're always looking for volunteers to help. Volunteers can help out in our Trails Center, do some trail checking for us or in a number of other ways. Contact us to volunteer.
How long has AHH existed?
AHH as a nonprofit was created in 2017 but our efforts to create an Adirondack-based hut-to-hut system started in 2015 with funding from the NYS Department of State and Department of Environmental Conservation.
How far in advance do I need to make reservations?
We recommend booking as far in advance as possible but don't let that prevent you from trying to book something at the last minute. Summer months are usually the busiest and spring and fall usually have the best last minute opportunities.
How do I change a booking?
Stay tuned for more information.
I haven't received a confirmation on my booking. What should I do?
Stay tuned for more information.
What is the cancellation policy?
Cancellations made 14 days or more before the start of the trip are eligible to receive an electronic gift card valid for 12 months from the date of issuance for the amount paid to date. Refunds are not available for reservations cancelled within 14 days of the start of the selected trip.
When and how do I pay?
A 50% non-refundable deposit is required at the time of booking. We accept Visa, Mastercard, and Discover. The remaining balance is due 14 days before your trip starts.
How can I check for availability?
Visit our Booking page.
Do I need to be an AHH member to travel a route?
No. When our membership program goes online there will be distinct advantages to being a member but it is not required.
How can I support the NYSDEC and their work maintaining trails?
A Trails Supporter Patch is available for $5 at all outlets where sporting licenses are sold, on-line and via telephone at 1-866-933-2257. Patch proceeds help maintain and enhance non-motorized trails throughout New York State.
How can I help support AHH?
You can make a much appreciated donation HERE.
Lodging and Food
Do lodgings have alcoholic beverages?
Some do and some don't. Most allow guests to bring their own beverages but you should check where they can be consumed.
Do all lodgings have toilets and showers?
Yes they do although in some cases they may be shared with other guests.
What are tipping expectations?
Stay tuned for more information
Is tent camping allowed outside of lodgings?
In most cases camping is NOT allowed unless they have a separate campground. Call us or the specific lodging for more information.
What are the sleeping arrangements?
Sleeping arrangements are made at the time of booking. Rooms are private unless otherwise stated.
How are the lodgings different?
Lodgings range from rustic to regal and everything in between. All our lodges have their own websites where you can learn more about them. Contact us with specific questions.
When should I arrive at my first night's lodging?
We encourage travelers to arrive in the early afternoon so they can get a feel for the community they are starting in and make any last minute arrangements.
Can we have an evening campfire?
Each lodging location is different in their ability to have evening campfires. Check their website or contact them directly for more specific information.
Do all lodgings have electricity, WIFI, or cell service?
All lodgings have electricity and WIFI. Cell service can be poor to nonexistent at some locations.
What do I do for meals?
Some meals may be provided as part of your lodging and in other cases not. Recommendations for meals will, however, be provided for each day of your trip.
Can you accommodate people with special diets or food allergies?
Yes. Virtually all restaurants and lodgings offer some sort of vegetarian and gluten free options.
Is coffee available at lodgings?
If perchance, coffee is not available at your lodging it will be available where you get your breakfast.
What do we do for water on the trail?
In most cases you should be able to carry your day's water with you. If you need more along the way you should carry some form of water treatment. i.e., a filter, steripen, or tablets, and get it out of a lake, pond or stream. We do not recommend consuming untreated water other than in an emergency.
Can we prepare our own meals at the different lodgings?
Some places of lodgings have kitchenettes. Check with your lodging host ahead of time.
Clothing, Gear and Vehicles
What clothing and gear do I need?
See our clothing and gear list. Coming soon.
Do I need to bring a sleeping bag?
No lodgings at this time require a sleeping bag. Future routes may.
How is luggage delivered to my nightly lodging?
Stay tuned for more information.
Can I drive to our first night's lodging?
Yes. Make sure you leave enough time to get dinner locally if it is not provided as part of your booking.
How safe is my vehicle where it is parked?
We recommend locking your car but it is extremely rare to have any issues with parked vehicles.
How do I get back to my car?
If your route starts and finishes at a different location (a Traverse) then an option exists to have your vehicle shuttled to your finish or to have you shuttled back to your starting point.
Do I need a parking permit?
No. There are no parking permits needed at this time.
On the Trail (or Water)
My trip includes more than one mode of travel. (hiking, paddling, a/o biking) How do I get my bike or canoe delivered?
You can rent any necessary gear which will include delivery and pick up where necessary. In addition delivery and shuttling of your personal gear can be arranged. Contact us for more information.
How hard are the trips?
See the difficulty rating of the trip you are considering and our Difficulty Rating Table (link) to get an idea of how difficult your trip may be. Keep in mind that what is easy for one person may be very challenging for another.
Do I need a guide?
We recommend a guide for anyone who cannot read a map and use a compass, has little or no experience planning and leading their own trips and/or has no first aid training.
Will I encounter hunters on my trip?
Big Game hunting season in the Adirondacks is from approximately the last week of September to mid December.
Small game hunting season is from approximately October 1 to March 20.
Travelers should consider wearing fluorescent orange during those times of year depending on their route. Call for more detailed information.
What if I have an emergency or what if someone needs to contact me in an emergency?
Cell phone use is intermittent or nonexistent in portions of the Adirondack Park. You should consider leaving the phone numbers of your lodgings with family or friends before you leave in case of emergency. If you have an emergency while out on the trail or water call the DEC dispatch number of 518-891-0235 or 911.
Where is the nearest medical care center?
Stay tuned for more information.
Where can I get a map?
You can purchase maps through the AHH Trails Center. Contact us for more information.
Do I need first aid training?
We recommend that all self-guided travelers have at least one group member with first aid training. Contact your nearest American Red Cross office for the date and location of a first aid course near you.
Do I need map and compass skills?
We recommend map and compass skills for all self-guided travelers. Contact us if you would like to attend one of our map and compass classes.
Can I mountain bike all the hiking trails?
Many but not all of the trails on our routes allow mountain bike travel. Trails in designated Wilderness areas do not allow mountain bikes. Designated Wild Forest trails vary in terms of allowing mountain bikes. Contact us for more information.
Are dogs allowed?
Unfortunately dogs are not allowed on hut-to-hut routes at this time.
How are the trails marked? Do I need a map?
Yes, a map is considered essential. We are in the process of establishing GPS waypoints for all daily starting and finishing points and GPS routes themselves.
Our Vision - Trips for Everyone

Weekend trips. Week-long trips. Some all hiking. Some all paddling. Some in which you can do both-- paddle and hike, even paddle and bike. No matter how long your selected route or your mode of travel, there are no tents to carry, camp stoves to struggle with, or mosquitoes biting you in your sleep on an Adirondack Hamlets to Huts trek.
You will travel to and through charming and historic Adirondack communities as well as amazing wild landscapes that make the Adirondacks the special place that it is. Our routes celebrate both the settled and the sublime, the culture of the Adirondacks as much as its nature. Your lodging will run the gamut, from the simple, such as walled tents, yurts, cabins, and motels, to the grand, including bed-and-breakfasts, hotels, lodges, and inns.
Come to the Adirondacks and experience the Park with Adirondack Hamlets to Huts. Adventure by day. Comfort at night.

Your donation helps us establish new routes!
Support Adirondack Hamlets to Huts and assist us in advancing wellness, conservation and vibrant communities throughout the Adirondack Park.