Visit us at 47 Main Street in Saranac Lake to learn about our hamlets-to-huts initiative and get insights on places to go in the region. You can also pick up select day hiking essentials, special gifts, local goods and AHH merch!
We are located across from the Waterhole in the historic Tousley building. The Tousley was built in the 1920s and was, in its heyday, a state-of-the-art storage facility with archival vaults that once housed top-secret documents during the Cold War and the Crown Jewels of Luxembourg. The second floor of the building (where we have our office today) was also the site of an auto sales showroom. A freight elevator that brought the cars up to the second story is still operational today.
Information
Stop by the Trails Center at 47 Main Street in Saranac Lake for the most up-to-date information about our project and route development work. Come learn about the various ADKH2H adventures available to you, your family, and friends! We will soon be taking reservations on-site here at the Center. Our knowledgeable staff are happy to provide you with information about where to hike, paddle, camp, and otherwise recreate (and where you can grab a tasty meal) – and how to do so in a safe and environmentally friendly way.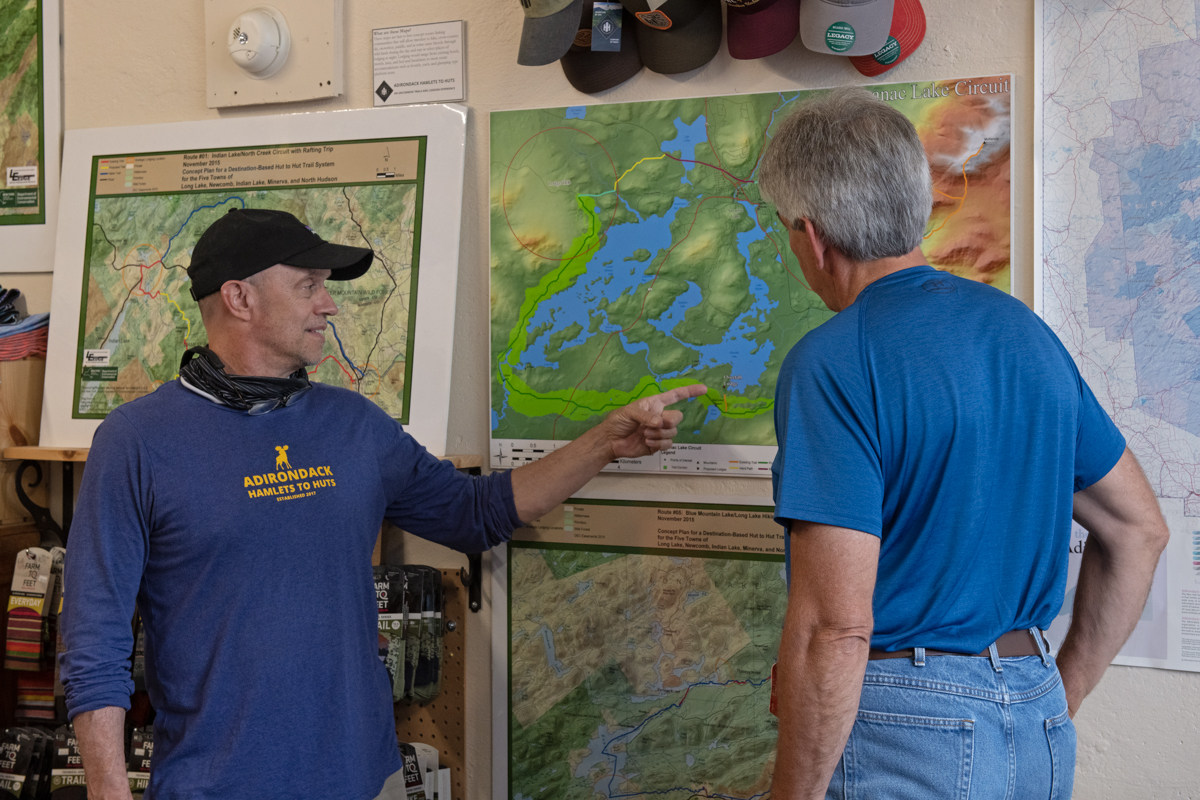 Education
Adirondack Hamlets to Huts promotes responsible recreation. We are developing interpretive displays in the back room of the Trails Center around the themes of "Know the Park," "Protect the Park," and "Protect Yourself." The "Protect the Park" display will feature the Seven Principles and best practices of Leave No Trace. Our "Protect Yourself" exhibits will feature proper preparedness for traveling in the backcountry. You can pick up "10 Essentials" items (e.g., water bottles, compass, first aid kit, poo shovels, etc) for your next backcountry adventure here at the Center! We ran a customized, inaugural map-and-compass workshop this summer and will host on an ongoing basis numerous and varied workshops on an array of relevant topics, including more navigation workshops and knot tying.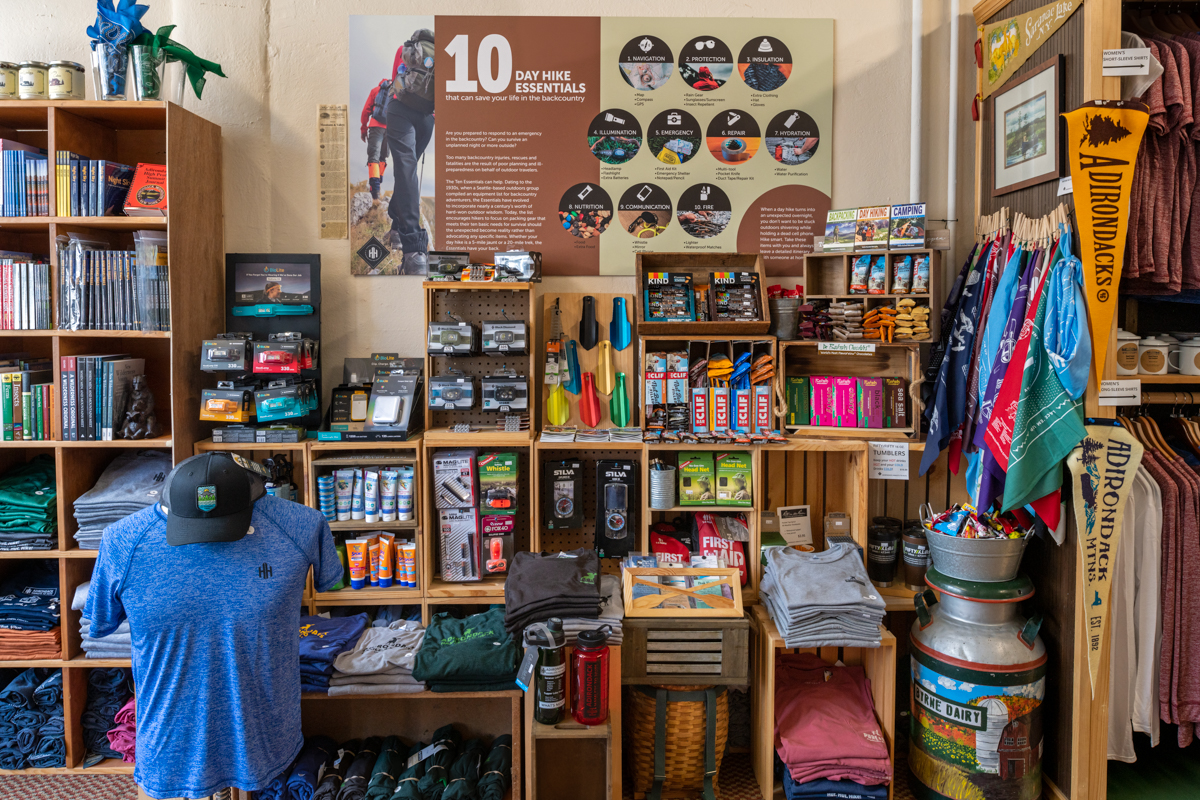 Support
We sell Adirondack Hamlets to Huts-branded apparel and locally and regionally made Adirondack gift items, including balsam fir pillows, BarkEater chocolates, mugs made by Adirondack potters, and soaps made by a Saranac Lake artisan. Proceeds from our sales go directly to supporting ADK H2H. Get your Hamlets to Huts swag here and spread the word! We are proud to sell PURE ADK merchandise in the Center. We also feature SKIDA headwear and Helly Hansen quality clothing. You can also find select AHH merchandise on the e-commerce site of our friends up the street in Saranac Lake, the Village Mercantile.
Proceeds from our sales go directly to supporting ADK H2H.
Adirondack Hamlets to Huts – Trails Center
47 Main Street
Saranac Lake, NY 12983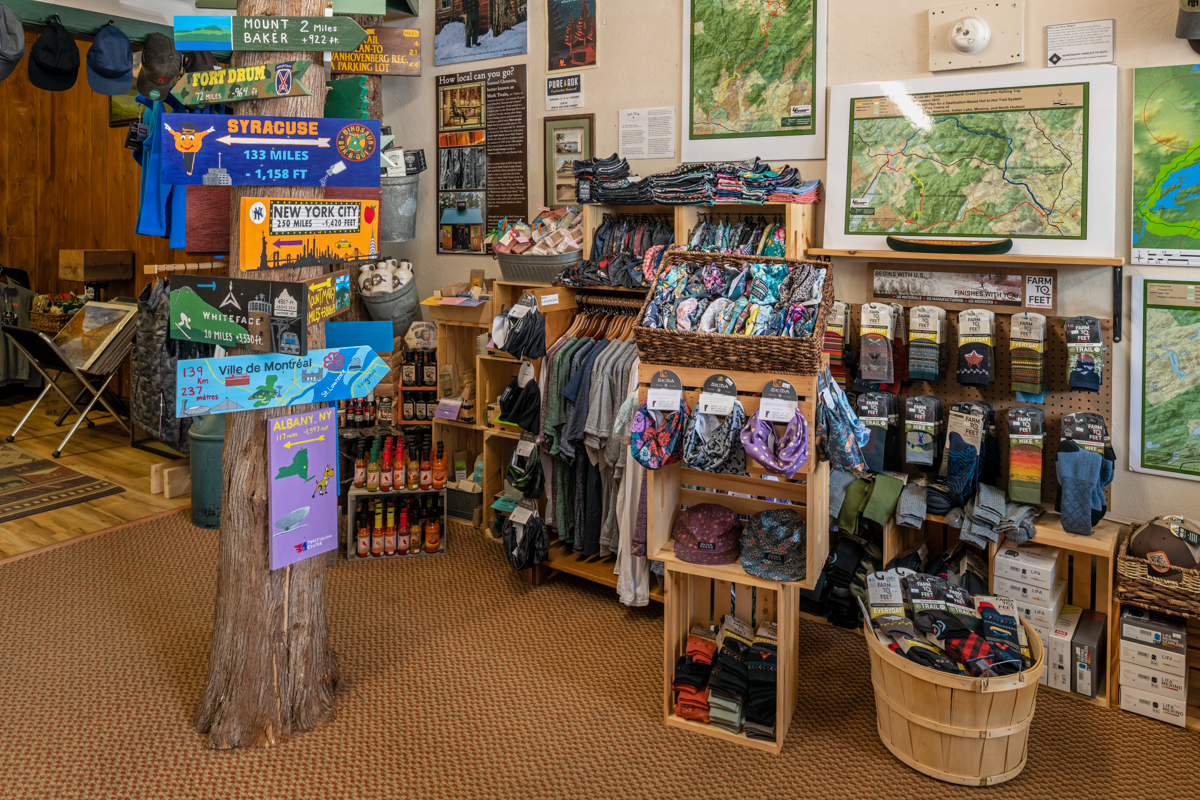 All photos by John DiGiacomo | Placid Times Photography
Our Vision - Trips for Everyone

Weekend trips. Week-long trips. Some all hiking. Some all paddling. Some in which you can do both-- paddle and hike, even paddle and bike. No matter how long your selected route or your mode of travel, there are no tents to carry, camp stoves to struggle with, or mosquitoes biting you in your sleep on an Adirondack Hamlets to Huts trek.
You will travel to and through charming and historic Adirondack communities as well as amazing wild landscapes that make the Adirondacks the special place that it is. Our routes celebrate both the settled and the sublime, the culture of the Adirondacks as much as its nature. Your lodging will run the gamut, from the simple, such as walled tents, yurts, cabins, and motels, to the grand, including bed-and-breakfasts, hotels, lodges, and inns.
Come to the Adirondacks and experience the Park with Adirondack Hamlets to Huts. Adventure by day. Comfort at night.

Your donation helps us establish new routes!
Support Adirondack Hamlets to Huts and assist us in advancing wellness, conservation and vibrant communities throughout the Adirondack Park.