Joe Dadey, PhD
Executive Director
Joe possesses a Bachelor's degree in Forest Biology from SUNY-ESF in Syracuse, New York, a Master's degree in Outdoor Recreation from Southern Illinois University in Carbondale, Illinois and a PhD in Environmental Policy/Environment Communication from SUNY-ESF. He taught for twenty years at the college-level, including eight years in the Recreation, Adventure Travel and Ecotourism (RATE) program at Paul Smith's College (PSC). Joe worked a couple of seasons as an Assistant Forest Ranger in the Adirondack High Peaks and has co-led numerous 40-day expeditions with adjudicated youth through Project USE of New Jersey. He has also co-instructed sixteen month-long outdoor leadership expeditions in the Adirondacks, the Boundary Waters Canoe Area Wilderness and Sequoia and Kings Canyon National Parks and traveled with PSC students to study ecotourism in Costa Rica, Guatemala, Belize, the Dominican Republic and New Zealand.
Joe likes sharing nature with people, outdoor adventures, charismatic megafauna, the Doobie Brothers, constellations, tennis, the literary works of Victor Hugo and John Irving, Scrabble, Syracuse University sports, the Creature from the Black Lagoon and, without apologies, Cream of Wheat.
Vision and Mission Development: 10/10

Trip Scouting and Planning: 10/10

Safety and Preparedness on Backcountry Excursions: 9/10

Capacity to Not Bring a Stocked Daypack to the Movie Theater: 1/10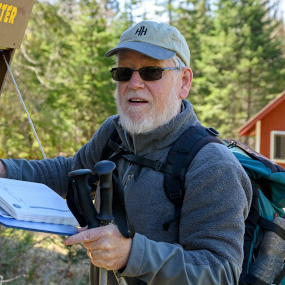 Jack K. Drury
Senior Advisor
Jack has been facilitating experiential learning at an international level for over 25 years and has provided training to educators throughout North America, the United Kingdom and the Middle East. He is Professor Emeritus of North Country Community College having founded and directed the college's Wilderness Recreation Leadership Program for nearly twenty years. He is past president of the Wilderness Education Association and co-author of the definitive wilderness leadership text The Backcountry Classroom: Lessons, Tools, and Activities for Teaching Outdoor Leaders as well as The Camper's Guide to Outdoor Pursuits: Finding Safe, Nature Friendly, Comfortable Passage Through Wild Places. He is a contributing author to Hiking and Backpacking, Adventure Education: Theory and Application, and The Wilderness Educator.
Being Senior Advisor at Adirondack Hamlets to Huts means one thing….Jack's old. Jack uses his career experience of nearly fifty years as an educator, education consultant, small business owner, and having served on or worked for nearly a dozen non-profit boards over his career to provide Joe with guidance and advice.
Jack's strengths include seeing the big picture but focusing on the details required to complete a project. He's deadline-oriented and recognizes that although any project can be worked on infinitely, there comes a point when you must declare the task complete and move on to the next one. He's fiscally conservative and finds ways to make a dollar stretch a mile.
Jack resides in Saranac Lake, NY with his wife Phyliss where he actively supports many Adirondack Park issues. They have four adult children.
Creating and Implementing a Process: 9/10

Making Lists: 10/10

Thinking He's Right: 10/10

Actually Being Right: 5/10
Board Members
Tyler Merriam – Donor Outreach Associate, Ausable River Association
Matt Burnett – Assistant Professor in Graphic and Multimedia Design, SUNY Canton
Tim Keyes – Evergreen Business Analytics, LLC
Tim Burpoe – Property Manager, The Molpus Woodlands Group, LLC
Jamie Savage – Professor, SUNY College of Environmental Science and Forestry, Ranger School
Our Vision - Trips for Everyone

Weekend trips. Week-long trips. Some all hiking. Some all paddling. Some in which you can do both-- paddle and hike, even paddle and bike. No matter how long your selected route or your mode of travel, there are no tents to carry, camp stoves to struggle with, or mosquitoes biting you in your sleep on an Adirondack Hamlets to Huts trek.
You will travel to and through charming and historic Adirondack communities as well as amazing wild landscapes that make the Adirondacks the special place that it is. Our routes celebrate both the settled and the sublime, the culture of the Adirondacks as much as its nature. Your lodging will run the gamut, from the simple, such as walled tents, yurts, cabins, and motels, to the grand, including bed-and-breakfasts, hotels, lodges, and inns.
Come to the Adirondacks and experience the Park with Adirondack Hamlets to Huts. Adventure by day. Comfort at night.

Your donation helps us establish new routes!
Support Adirondack Hamlets to Huts and assist us in advancing wellness, conservation and vibrant communities throughout the Adirondack Park.